Wednesday, September 28 2011, 4:24am EDT
4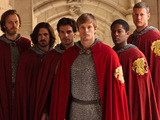 There's a bumper weekend in store for cult and sci-fi fans -
Doctor Who
might be
coming to an end
, but
Merlin
is back on the very same night! The fantasy drama returns this Saturday with 'The Darkest Hour' - the first installment of a thrilling two-part adventure.
A year after Morgana (
Katie McGrath
)'s betrayal, Uther (
Anthony Head
) is a broken man and Arthur (
Bradley James
) has stepped up as Camelot's ruler. But as dark forces threaten to overwhelm the kingdom, the prince faces his greatest challenge yet, while
Merlin
(
Colin Morgan
) finds himself powerless to intervene!
> Merlin returns: The fourth series premiere in pictures
Check out
Digital Spy
's ten teasers for the return of
Merlin
below:
1.
"It's not something you can chase or something you can kill."
2.
With a new series comes a revamped title sequence - it's still in the style of the old one, but you'll notice a few additions.
3.
"His heart is ****** and his spirit is ****."
4.
There's some obligatory shirtless Arthur action - for those of you who enjoy that sort of thing.
5.
"I'm sure a man of your talents can think of something."
6.
The Knights of Camelot are not above a little mischief.
7.
"He is your ******* and he is your ****."
8.
Morgana suffers from some rather troubling visions...
9.
"I always thought if things had've been different, we'd have been good friends."
10.
Camelot comes under siege once again, but this time Merlin's magic may not be enough to save it.